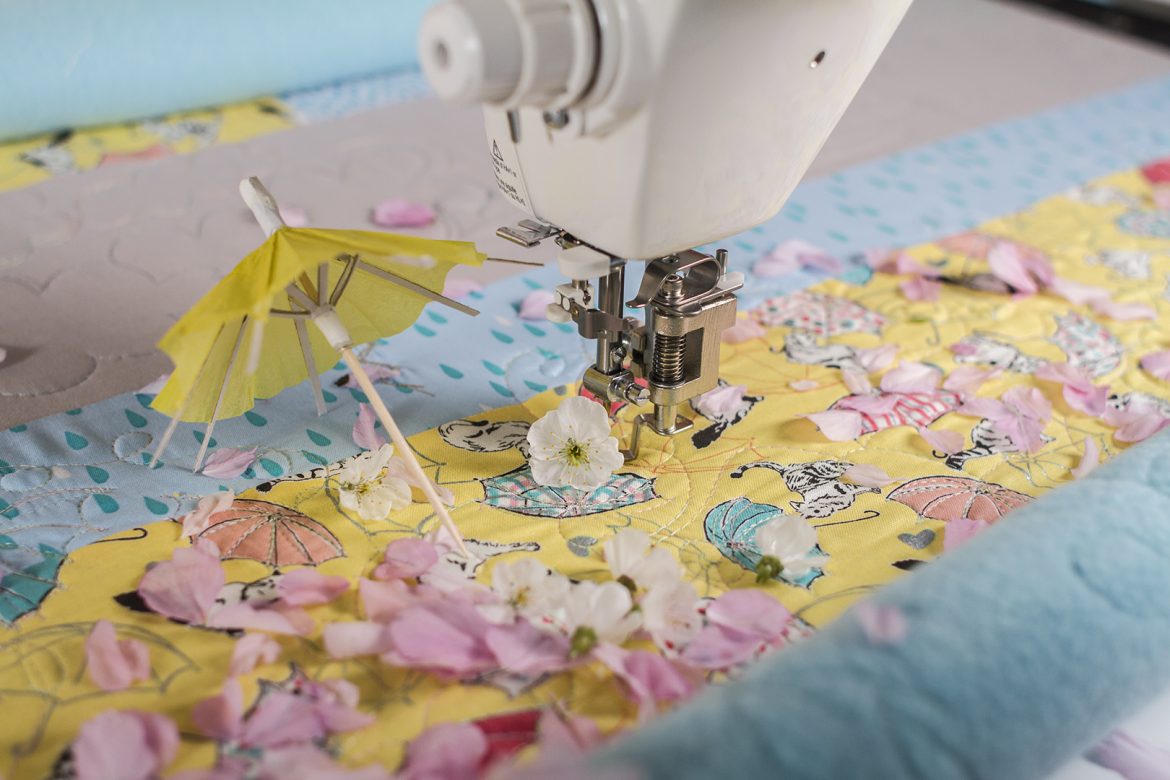 April Showers free-motion-quilting tutorial
A Little Box of Sunshine subscription box is just what we needed this rainy April.  The quirky retro fabric from Lecien provides the perfect canvas to practice the umbrella shape. Our video tutorial demonstrates outlining, extending a partial pattern and then, as you gain confidence, going on to draw your own umbrellas.
We used a particularly lovely cone of Fantastico  from Superior Threads called Rainy Dany #5118 The one inch variegated turquoise shades create a dreamy rainy day texture. Last year we used Opalescence for this box. We swapped because Opalescence was out of stock, but we will make sure to include Opalescence in an upcoming box.
Our April little Bags of Moonshine offer a mid-grey Magnifico 3,000 yd. cone called Stainless Steel #2165 – that's just right for drawing clouds. Grey is such a useful colour to have in your thread stash and the free-motion clouds video tutorial teaches a good line design to have for landscape and seascape projects.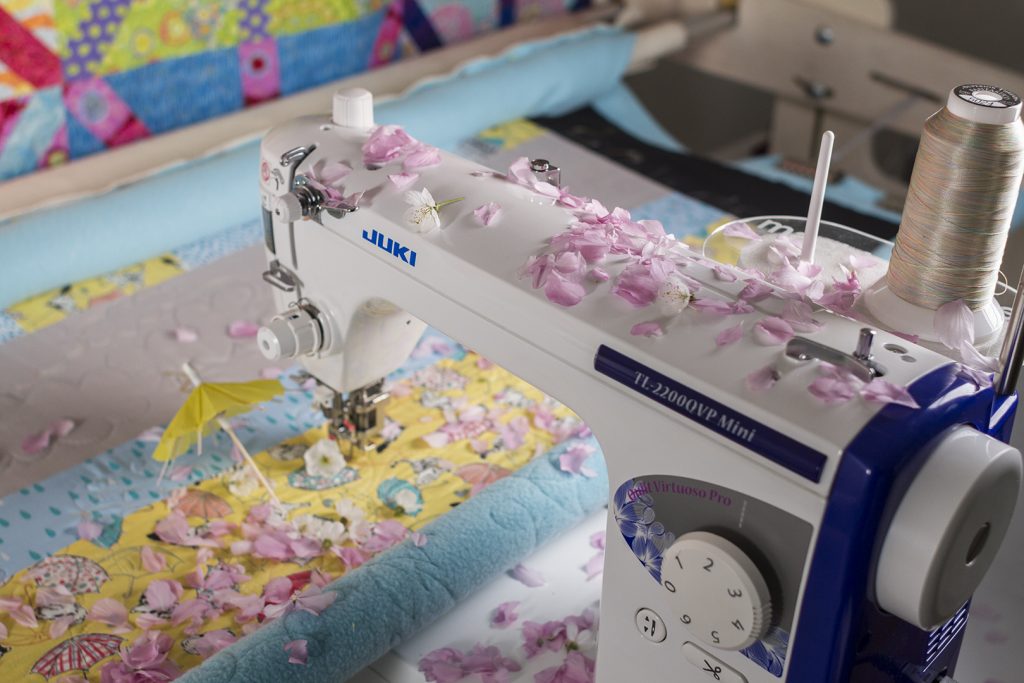 Here's the practice piece set up on the Machine Quilter frame with the JUKI TL QVP Mini lockstitch sewing machine and our Nifty Grip speed control handles. Below is a nice up-close quilting detail. Clouds come in handy on all sorts of landscape and seascape projects and our Moonshine tutorial teaches 3 different cloud shapes. These particular clouds were stitched with the Fantastico Opalescence.
One of the best things about having a thread stash is that you can mix and match your threads. The Magnifico mid-grey Steel thread would also look great outlining the umbrellas in the Lecien theme fabric.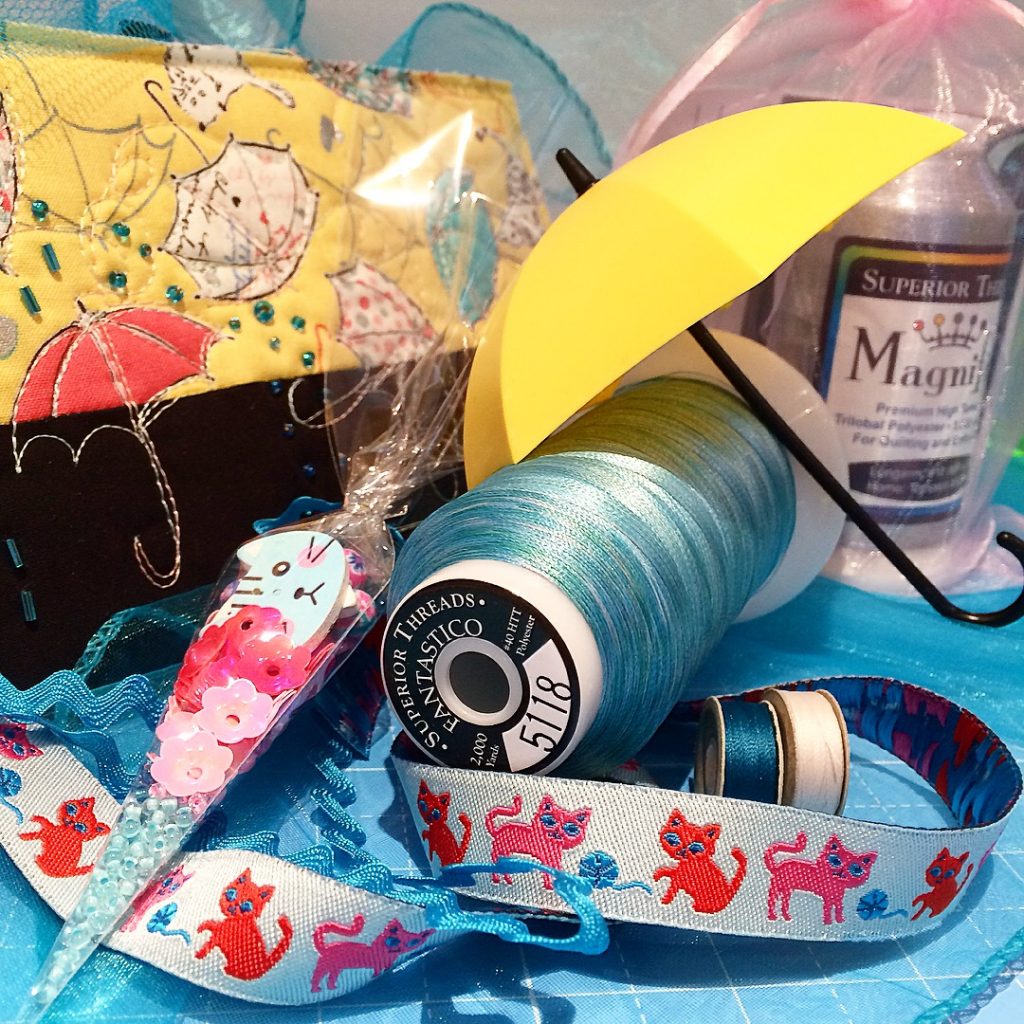 Here in the UK we often have to make our own sunshine!                                                                                                                          Our Sunshine and Moonshine tutorials are designed to make you happy when skies are grey.