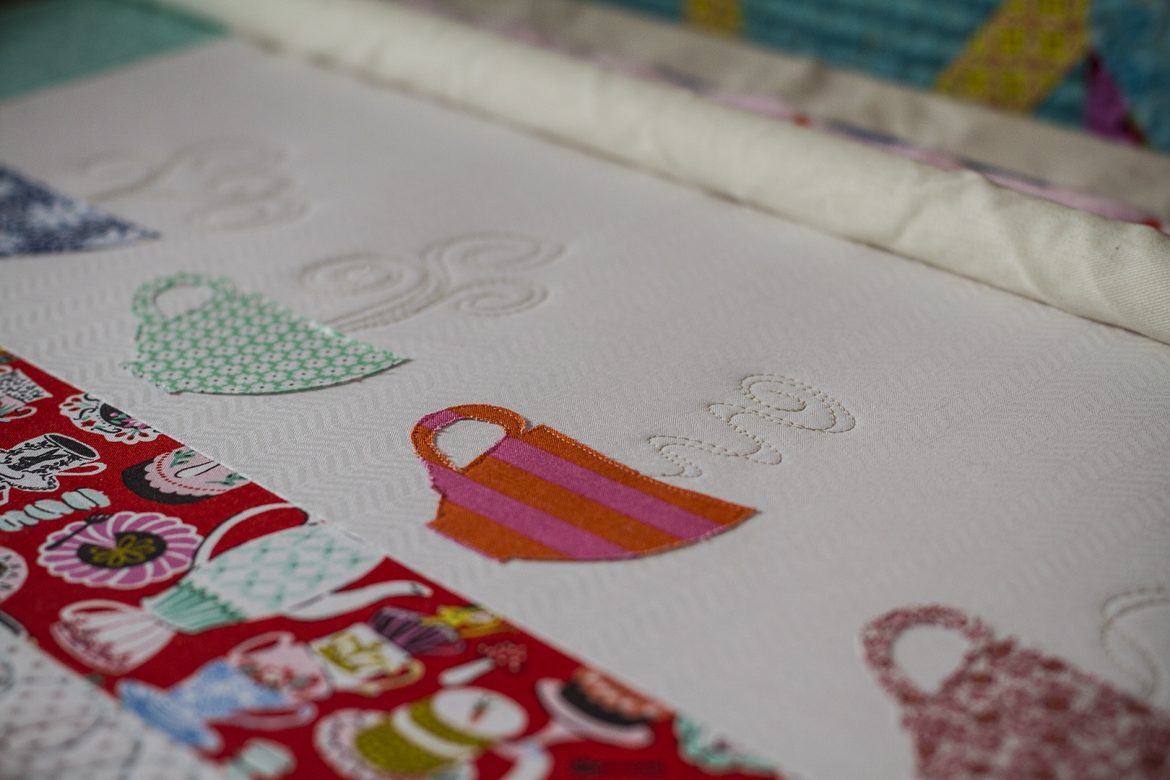 Mad March Tea Party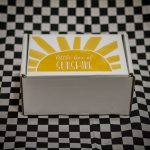 Our Mad March Little box of Sunshine is posted and on the way now. We had fun with our Mad Hatter Tea Party theme. The Sunshine Box includes a Wonderland fabric from Josephine Kimberling. The stacked tea cups and wonderland characters are so cute. We've included an extra bit of coordinating fabric just for fun. A new Fantastico thread cone too. Fun steam punk embellishments and our gift this month is tea, of course! You can have a peek inside the Box and see all the goodies below.
This month's addition to your thread stash is a black and red variegated thread called Lava Flow #5017 from the Fantastico range of Superior Threads. We think it's perfect for drawing our hearts, spades, clubs and diamonds line designs.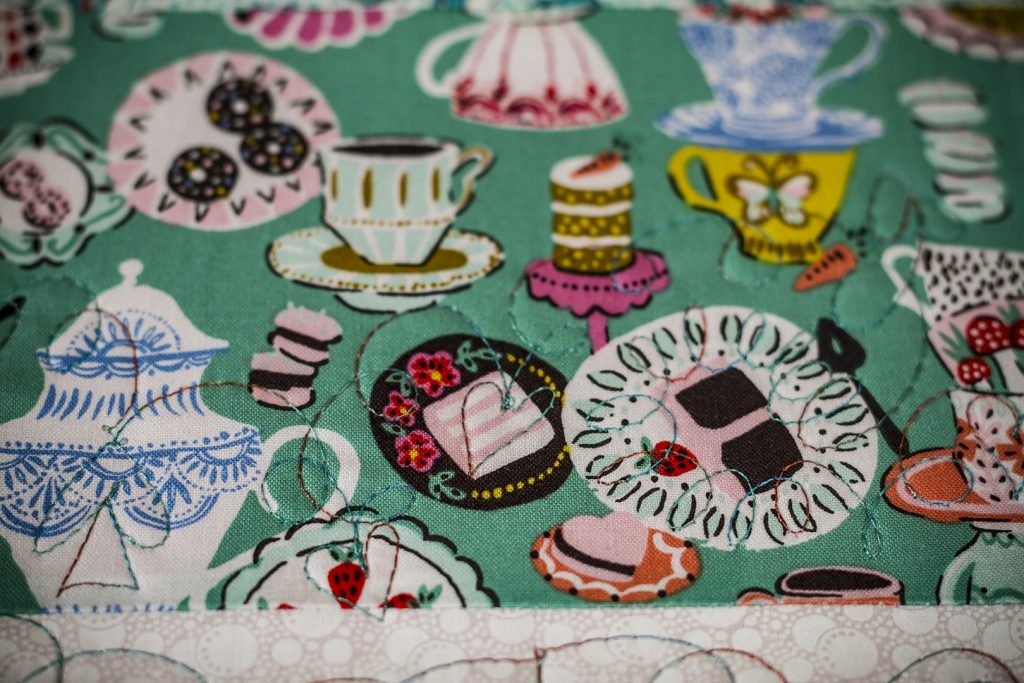 We have some exciting embellishments clock faces and REAL tiny watch parts to go with our Mad Hatter tea party theme. I did want to warn you that many of the little cogs are spiky. So please be careful and don't get pricked by them.  I was able to get the spiky bit off by placing the little cog, spiky side down on a hard surface and pressing on it hard with the back side of a spoon. That make the spiky bit pop off and then I used it in a similar way to a sequin.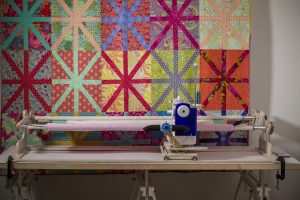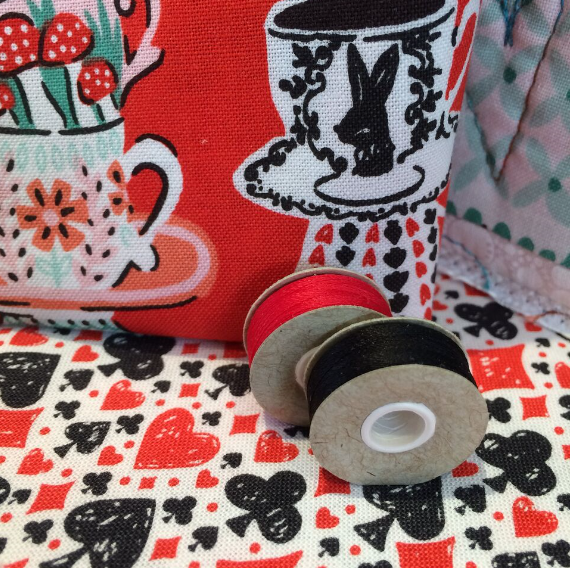 You get 3 pre-wound bobbins this month!!! Black and Red to go with the Lava Flow Fantastico and Silver. The silver Bottom Line thread is a fantastic blender, it is practically an invisible thread. You'll love it when it comes to hand embellishing. I used this Silver Bottom Line in the bobbin of my regular sewing machine when I was stitching up the postcards. Look how well it blends into the zig zag edging of the post card below.
And the back features the variegated Fantastico thread setting off the zig zag edging on the paper side of the post card. Follow our video tutorial to create the hearts, spades, diamonds and clubs line designs. Cut to fit the postcards and add ribbon. then use the bag of buttons, beads, sequins, clocks and watch parts for hand embellishing. You'll have 5 postcards in your Sunshine Subscription Box and you can use the online pdf file on our subscription membership site to print more.Have fun making your stack!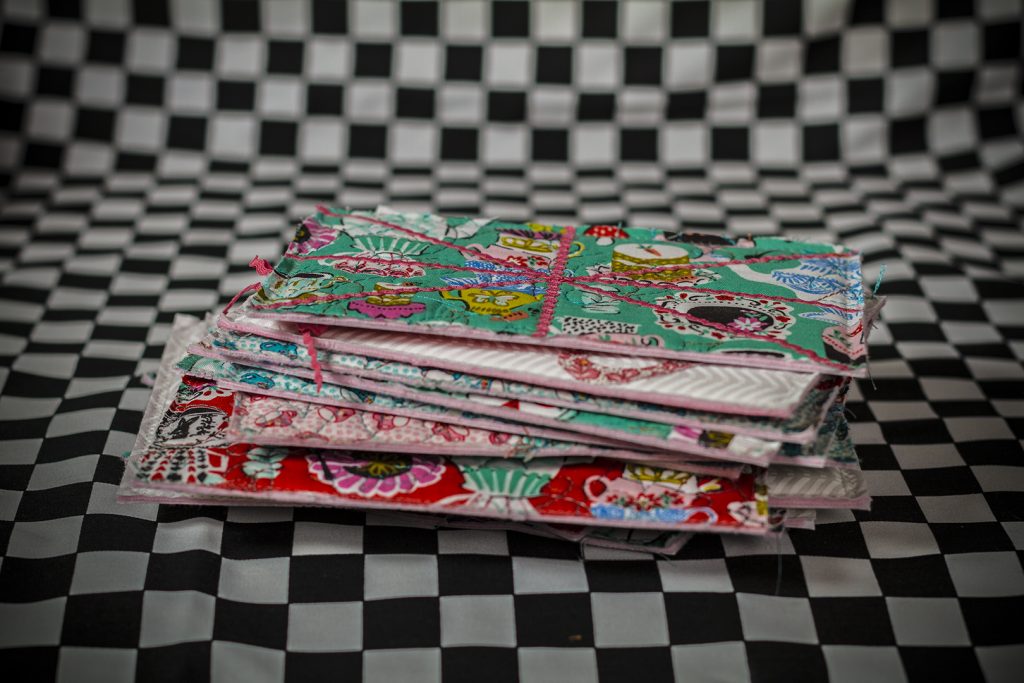 We had a wonderful Alice Tea Party at Kay's Fabric Corner in Lincoln last week!
So many people enjoyed playing with the Juki sewing, quilting and overlocker machines. The straight line quilt-as-you-go postcard projects were a big hit. And many people enjoyed trying the Juki TL QVP Mini straight stitch machine on our 6-foot Machine Quilter frame. We're coming back again! See you soon.