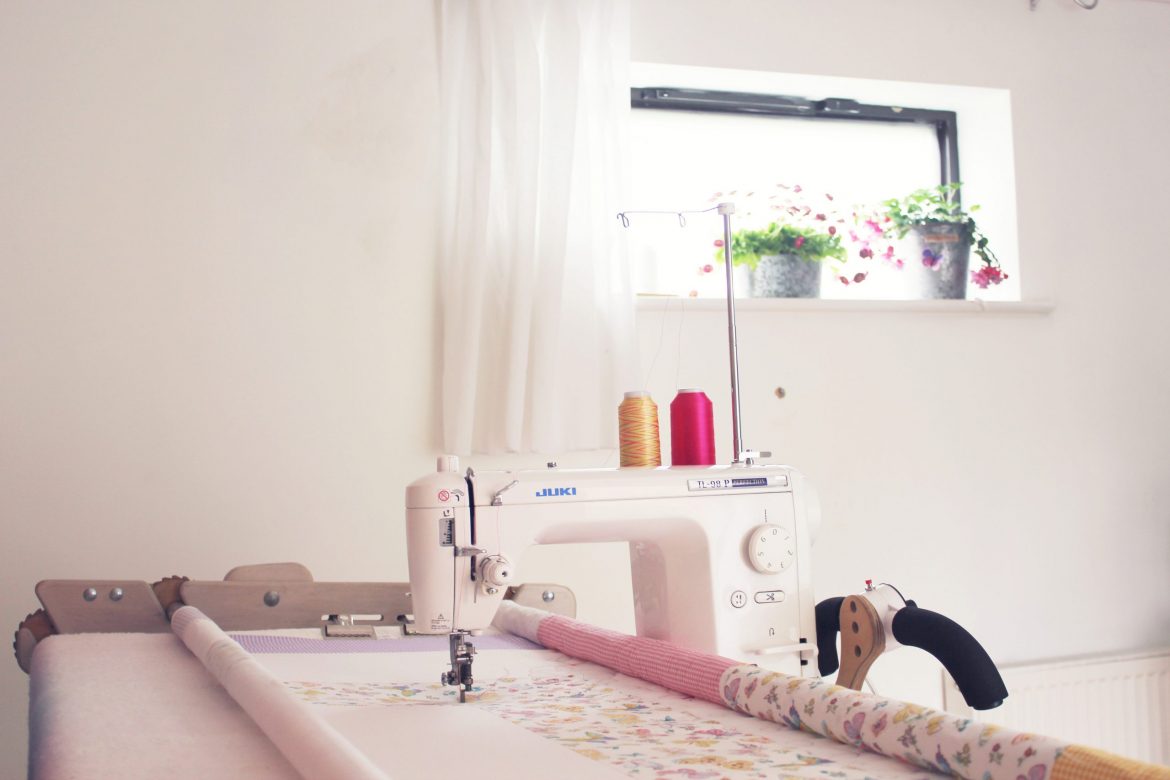 Welcome to the Studio
Creative Spaces: room for tools
After years of fitting my quilting into our family spaces, I finally have my own studio. We moved house last year, which was an exercise in de-cluttering! Painful but ultimately liberating. As challenging as it was to get rid of 17 years worth of  stuff, it did leave room for NEW things.  It's great to have some space to spread out, space to breathe, space to think and let the magic happen.
With that in mind, I've tried to keep my new space clutter free. I've kept to the essentials; creating flexible storage and making sure that the important tools took centre stage. This post is about the things in my studio that I wouldn't live without.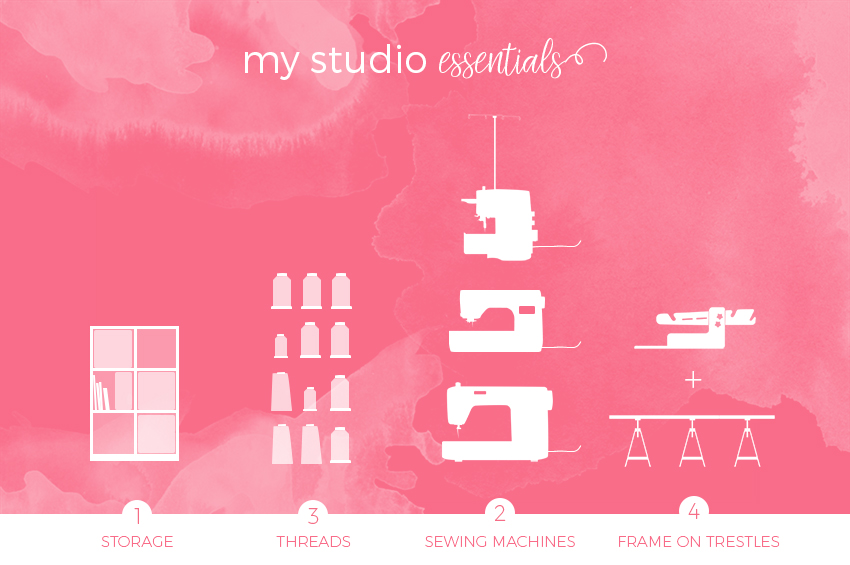 1) Mess/stress-free storage: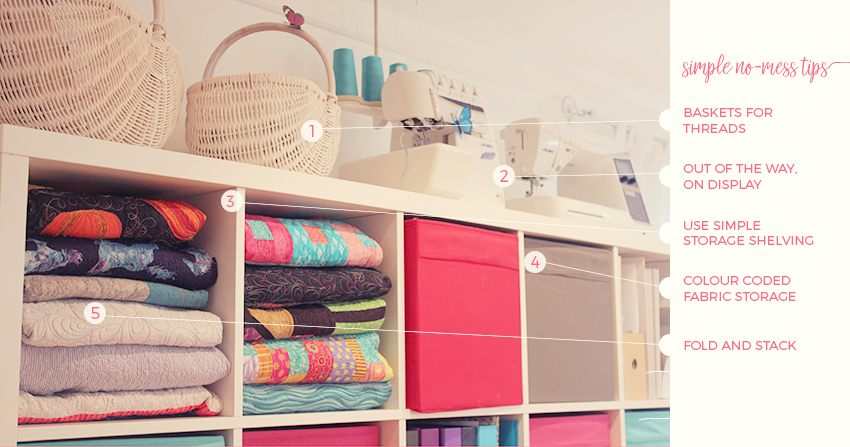 This lovely cube storage unit from IKEA is a great way to maximise storage space. The colourful box drawers in some of the units create a bright, cheery space.The 5 X 5 cube storage keeps everything I need accessible and tidy. There's room for fabric, thread, quilts, books… well everything!!  This box shelving from IKEA comes in all sorts of sizes and colours. It's stylish and cost-effective too.
2) Threads
Thread is to the quilter what paint is to the artist. As soon as I began to LOVE the quilting part of the process, my thread stash became just as important as my fabric stash.  My studio is always stocked with Superior Threads, imported from an American company  offering a broad range of sewing and quilting threads at competitive prices. I use the larger cross-wound cones because they're made for machine quilting. They're more economical, you get more thread for your money when you buy big. And the larger cones are ideal for machine quilting on or off a frame. If your sewing machine doesn't have an extendable thread guide you can purchase one to stand beside your machine.
3) Horses for courses: sewing machines:
Sewing machines are THE essential tool. I need three. Here's why.
one for piecing, embellishing and general sewing,
one for machine quilting on my machine quilting frame
one for overlocking.
The JUKI HZL-DX 7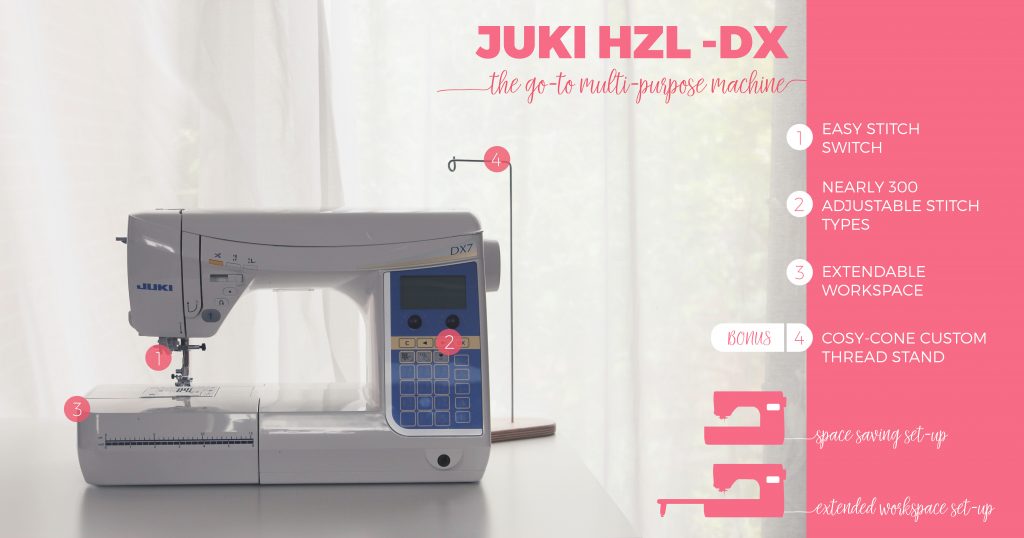 This machine is extremely versatile, and unlike many other machines in the 'I can do everything' genre, surprisingly reliable. I use this machine for piecing, embellishing and general sewing. My favourite thing about the HZL-DX7 machine is the industrial BOX feeding system which gives me a beautifully even and straight line of stitching with no puckering. This machine is so easy to use. It's intuitive design makes it easy to change and or adjust the stitches. I also love that I can increase the work space by adding on an extension. Using the stand alone extendable thread stand lets me use the larger more economical cross-wound cones. I simply set the cone on the stand, slip the thread through the loop and then thread the machine as usual.
The JUKI TL QVP Mini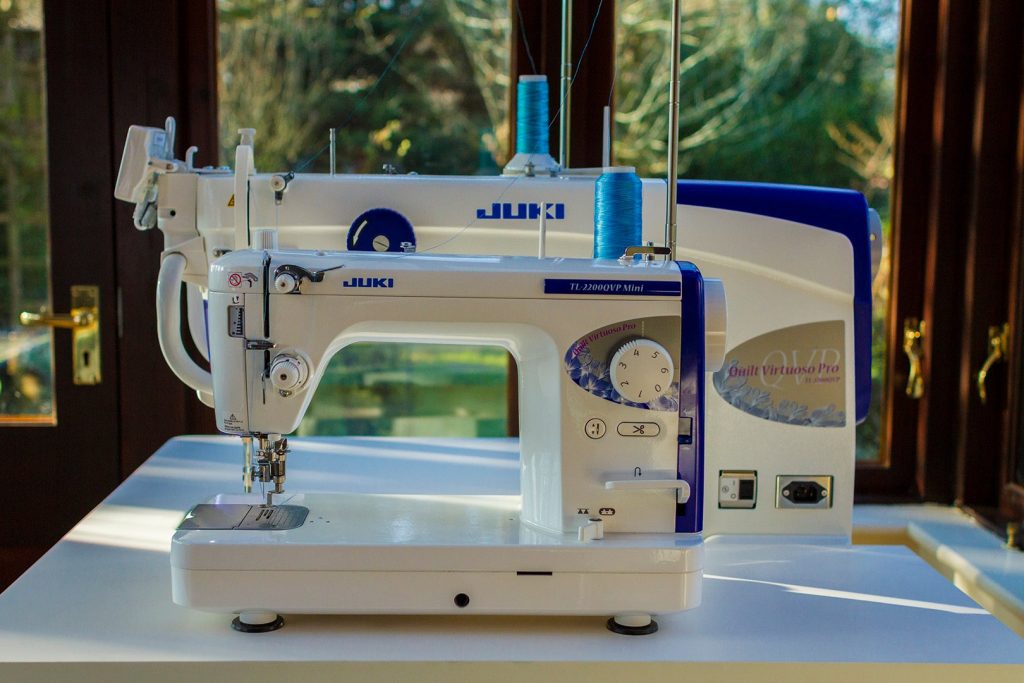 It's only mini compared to the long arm! JUKI managed to pack all their industrial know-how into a domestic machine, creating a simple workhorse that does one thing perfectly – the straight stitch. This TL QVP Mini is the updated version of the JUKI TL 98P. These are by far the BEST machines for machine quilting on a frame because of these 3 features:
SPACE

–  the TL QVP Mini is TALLER AND LONGER. Lots of people are making machines longer. But we need the additional height as well to make room for the fabric bar that goes under the arm of the machine.

SPEED

–  most domestic sewing machine almost go 1000 stitches per minute. The TL QVP Mini goes 1500 stitches per minute. And she does it effortlessly. She purrs. The speed and strength of this machine give me a beautiful bold line of stitching.

SIMPLICITY

– the TL QVP Mini only does a straight stitch. this means that she's simple and easy to tension. Complicated computerised sewing machines don't like skating around on wheels.
The JUKI MO-1000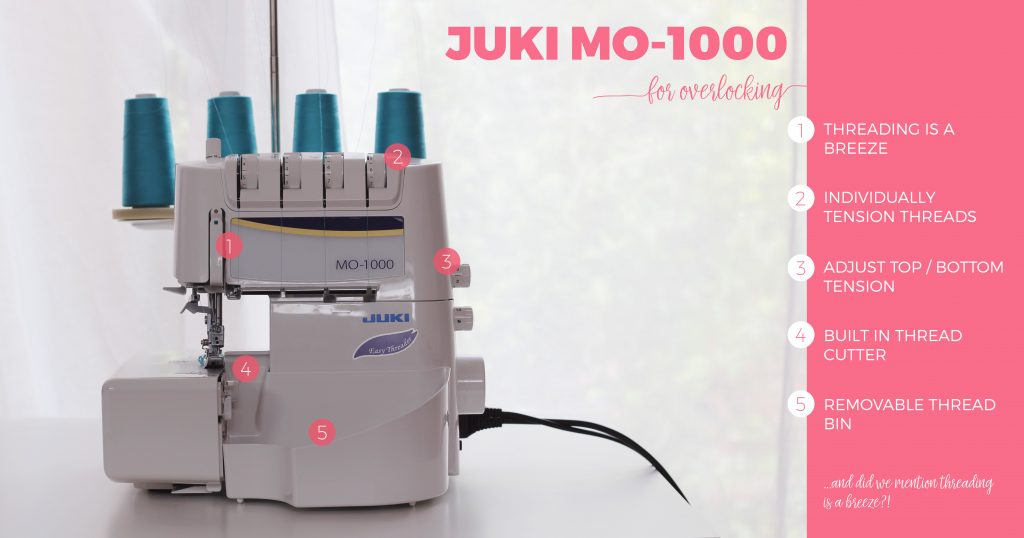 I LOVE this machine. I'd always been terrified of overlockers simply because there are so many threads to, well, thread. But with this machine it's a breeze –  literally. The JUKI MO1000 uses an automatic airflow technology that makes it essentially self threading!  It's brilliant for dressmaking. I use it for edging my quilting samples and tidying up my quilt edges prior to binding. 
4) The game changer: our Machine Quilting Frames
Fed up with wrestling your quilt under the arm of your sewing machine? Tired of spending hours pinning, tacking or spraying the layers of your quilt together? Bored to tears with stitch-in-the-ditch? Lots of quilters answer YES! to those questions but don't have the space or disposable income to dedicate to purchasing a long-arm quilter.
Machine quilting frames are the answer! Our Cosy Cat Quilting frames are made in Lincolnshire. They're designed to take the frustration out of quilting. The frame perfectly tensions the layers of your quilt so that you never have to baste pin or tack again. Ever! It's worth every penny just for that. Then your sewing machine sits on carriages that glide on tracks. This enables you to glide your sewing machine every-which-way over your quilt top. It's like magic.
Unlike the long-arm machines, the Cosy Cat Quilter is collapsible, and simply clamps to any table. You can put it together or take it apart in minutes. This means you can double-up your dining room, or spare bedroom, or conservatory as a studio. This makes it the perfect tool for any quilter short of space.